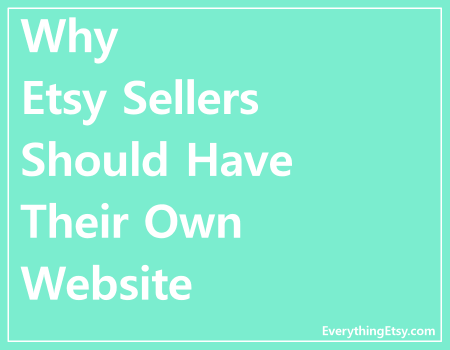 Having your own website is one of the most rewarding and fun parts of building an online business. It provides you with so many opportunities. For example:

A chance to create an individual space that is all you!
A chance to share your story in depth
A chance to tell more about your products and why you love them
A place to refer everyone to, without seeming like you're trying to sell to them
A chance to learn something new and create a whole new set of skills
A place online that you control completely
An opportunity for future growth and expansion
A more professional image
Improved name and brand recognition

The list of reasons you'll love having your own website could really continue for hundreds of items.

The real question is "Why wouldn't you have your own website?"

The only answers I can think of are cost, time, or techno-phobia (fear of the technology).

The cost is very low, the time investment can be spread out over years, and if you're wanting to work (and make a profit) online, you better get used to technology or do like Kim did and trick someone else into learning it.

You Need Your Own Website!

Your own website, hosted on a paid hosting account (rather than a free account such as blogger.com) offers you a list of advantages so long that I think if I wrote about them all, you wouldn't finish reading this post till next week.

We set-up our own websites shortly after Kim started selling on Etsy and have learned the whole thing from scratch. It can be a lot to learn, depending on how far you want to go with it. But that's the point! You can go as far as you want!

You can build a professional blog selling advertising, products, downloads, etc. You might find out, like we did, that the blog becomes as big a part of your business model as your actual store is.

You can extend your own site to have your own selling platform. One day you may become large enough that you would prefer to sell everything from your own site, rather than on Etsy.

You may come up with an idea of a web-based service you can offer your customers via your own site. You might develop an app of some sort.

The point is that when you have your own website, you look more professional now and you open up unlimited options for the future.

No website, or a free hosted website, simply don't offer that kind of future opportunity.

What About Starting Off With Free Hosting?

Since the cost of having your own domain and website is so low (about $10.00 a month) it's not worth the effort to build a whole blog at free hosting and then move it later.

There is lots of talk about "how easy" it is to move a site. It's really not. It's easy to move content, but not at all easy to move the look of your site, the arrangement of your site, or the content of your sidebars. It's also not great from an SEO standpoint to move your site.

If you're looking to build a long-term business online, then there isn't really an option. I'm not trying to be a know-it-all here. I'm just trying to be someone who has been there and helped lots of others who have been there. Just someone pointing out the easiest and best path to where you want to go.

If you don't have your own website hosted on a paid hosting account, and you really are serious about building your Etsy business long-term, then you should do exactly what I would do if I was in your shoes right now.
1. Jax Computer Chic will give you your first year of HOSTING for free!
2. Jax Computer Chic will also help you to design a custom website. (Examples)
3. Then you start learning!

It takes a little bit of effort to learn all of this stuff. Or you can hire people to do it for you. My advice is that if you plan to build your business up over time is to just take your time and learn it yourself.

We make changes every single day on our sites. It would cost a fortune to pay someone to do it all. It takes time to learn, but the knowledge can never be taken away. You'll always be able to make your own changes and once you learn "how to learn" online, you'll be able to figure out anything you want to do.

I'm so sorry if this is over-simplified. I'm just offering by best advice without going into pages and pages of detail. I hope you find it helpful.

~ Tim
This post was originally published on our other blog,Etsypreneur.com
Request More Info